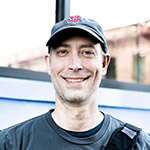 Jeff Alworth
Jeff Alworth lives and drinks in Portland, Oregon, and has been writing professionally for over 15 years. His passion has taken him all over the world where he's collected insight and know-how for a number of books, including "Brewing the World's Classic Styles: Advice From the Pros," his comprehensive guide to beer, "The Beer Bible," and soon, a wonderful introduction to another fermented cousin, cider called "Cider Made Simple."
David Berg
David earned a B.S. in Aerospace Engineering in 1988 and graduated from the American Brewers Guild Craft Brewer's Apprenticeship Program in 1996. He was the Head Brewer at Water Tower Brewing Company in Eden Prairie, Minnesota from 1996 to 2002, the Head Brewer at Bandana Brewery in Mankato from 2002-2006., He has worked at August Schell Brewing Company since 2006.

Emily Berman
Emily grew up with a healthy respect for food preparations, observing and helping in the kitchen at every opportunity. After transplanting from Virginia to Chicago, she joined a CSA program for the first time, sparking her interest in locality and seasonality and rekindling the romance of her summers spent on her grandparents' farm. She started pushing herself to make everything she ate from scratch, spending hours upon hours, and sometimes days, prepping for dinner parties and holidays. Now a trained chef, her philosophy is simple — eat fresh, eat quality, and eat homemade — which is a perfect compliment to the craft beer movement.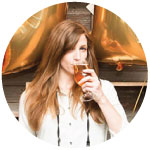 Stephanie Byce
Stephanie is a writer and photographer focused on Midwestern beer. She found her way to Chicago from Northern Wisconsin. When not hiding behind a camera lens or hunched over a laptop working on her blog, The Girl and Her Beer, she often finds herself in Montreal—or on the back stairwell of her apartment building, drinking with her cat.

Jeff Cagle
Jeff is a freelance photographer in Chicago who tells journalistic and editorial stories for some of the regions' biggest newspapers and magazines. Sometimes he'll break your heart, and sometimes he'll lift your spirits — all with a single photo. He also recently took on a role managing the taproom at Penrose Brewing in Geneva, Illinois. His hometown brewery, Solemn Oath in Naperville, Illinois was where we first met — and we've been drinking and shooting together ever since.
Bill Covaleski
Bill is a Founder and Brewmaster of Victory Brewing Company, is a graduate of Temple University's Tyler School of Art, Covaleski's passion for home beer brewing lead him from a short career as an art director to a five-year apprenticeship under German trained Dutch brewmaster, Theo deGroen. In 1993 he earned a degree from the Doemens Institute of Munich Germany, having completed their International Course in Brewing Studies. Covaleski plays a pivotal, creative role in leading the overall growth and brand strategies of Victory Brewing Company.